In the honour of the upcoming football World Cup, a nice tournament named Mondialito took place in Helsinki on the 9th of June, where the representatives of those nations playing in Russia could compete in their football skills on the grass field (6+1 format). The team gathered and organized by Ambassador of Serbia won 3rd place.
The scores:
Serbia - World Refugees Team 3:0 (scorers: Chuikov, penalty; Ilić, two goals);
Serbia – Colombia 2:0 (A. Šaponja, free-kick; Chuikov);
Serbia – Portugal 1:0 (Đ. Obradović);
semi-final, Serbia – Russia 1:4 (Chuikov), and
3rd place match, Serbia – Colombia 2:1 (Chuikov, two goals).
In the final, Russia was better than England (1:0).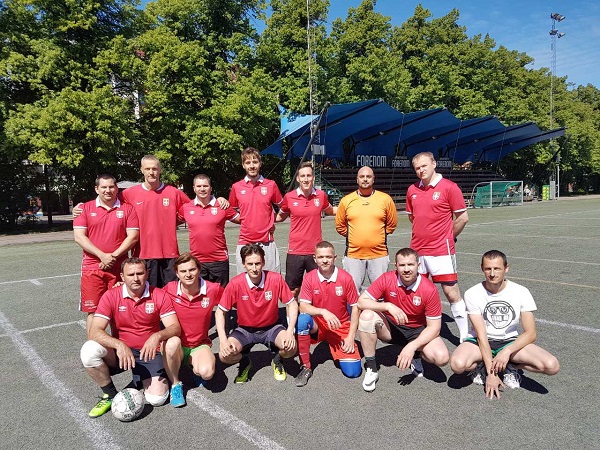 Serbian Team, from left to right, up: Nikola Popović, Srđan Vojinović, Branimir Ilić, Goran Ivaniš, Đorđe Obradović, Murat Durmaz & Dmitry Chuikov; down: Vaso Trifković, Miloš Arsić, Ambassador Saša Obradović, brothers Aleksandar and Mirko Šaponja & Milan Đurić.
One of the best players of the tournament was Dmitry Chuikov, Consul of the Belorussian Embassy, who played with Serbian team and scored five goals. The oldest player in the Serbian team was Ambassador (50), who managed to assist at the goal in the semi-final against Russia, while the youngest was his son Đorđe (20) who scored the winning goal against Portugal.
The winning goal for the 3rd place position, scored in the last minute of the match after the great pass by Mirko Šaponja, could be seen at the facebook profile of the Embassy (Ambasada Republike Srbije Helsinki).
The team of Serbia dressed the official T-shirts of its National Football Association.