Minister of Foreign Affairs of the Republic of Serbia Nikola Selakovic had a video-meeting today with Minister for Foreign Affairs of Finland Pekka Haavisto.
Selakovic assessed that the bilateral relations between our countries were traditionally good, friendly and without open issues, pointing out that Serbia was committed to the further enhancement of comprehensive cooperation.
The Minister recalled that the long-term character of relations between our two countries was also evidenced by the fact the 90th anniversary of the establishment of diplomatic relations was marked in 2019.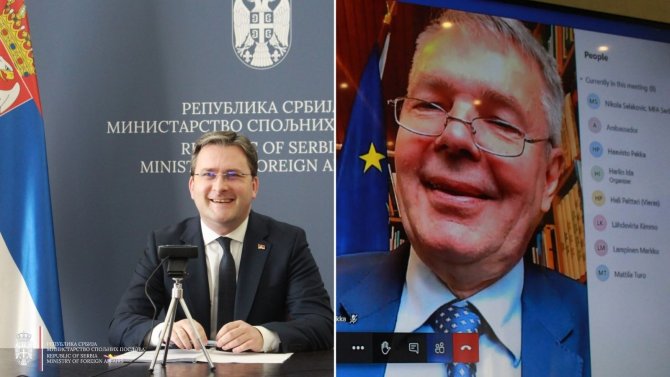 Minister Selakovic said that Serbia had been and would continue to be a reliable partner to Finland, in order for the good political relations to be matched by good economic and all other cooperation.
Furthermore, the Head of Serbian diplomacy emphasized the importance of high- and top-level visits and expressed hope that an exchange of visits would take place once the situation amid the coronavirus subdued.
We are interested in deepening cooperation through exchange of experiences with the Finnish side in the field of economic diplomacy, Selakovic said and added that it would be important to intensify cooperation with the Nordic Business Alliance in Belgrade with the assistance of the Embassy of Finland. He also called on Finnish investors to increase their presence on the Serbian market in the period ahead.
Discussing the importance of regional cooperation, Selakovic said that he was pleased that the significance of the "mini-Schengen" initiative was recognized, as it was launched aiming to contribute to regional economic connectivity in a concrete way, by creating a single economic space and facilitating freedom of movement of people, goods, services and capital.
Minister Selakovic underlined that full membership of the EU was one of the most important foreign policy priorities of Serbia. He added that the messages from Finland conveying its support to the EU enlargement agenda were encouraging, and said that Serbia expected Finland's support in opening and closing the negotiating chapters.
The Serbian Foreign Minister emphasized that Serbia was committed to the normalization of relations with Pristina, that Belgrade still believed that dialogue can lead to reaching a compromise solution that would be acceptable to both sides and bring lasting peace and stability to the region.
Belgrade,
25 February 2021