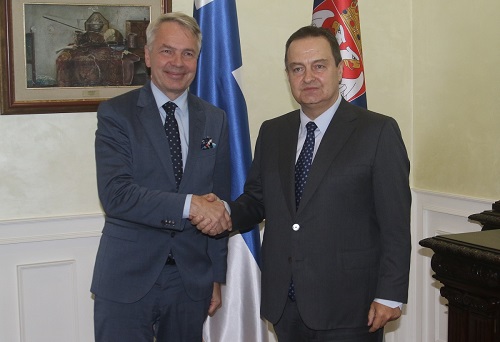 Minister for Foreign Affairs of the Republic of Finland Mr. Pekka Haavisto made an official visit to the Republic of Serbia on 1 October 2019.
At the joint press conference held at the Ministry of Foreign Affairs of Serbia in Belgrade, First Deputy Prime Minister and Minister of Foreign Affairs of Serbia Mr. Ivica Dačić conveyed the appreciation of the Serbian Government to the Government of Finland for its continuous support to the EU enlargement policy and the European integration process of the Republic of Serbia.
Minister Haavisto emphasized that the Western Balkans is a part of Europe and its role is very important for the EU, therefore it's of crucial importance for that region to participate in the European cooperation; marking Serbia as an important component of that cooperation. Mr. Haavisto used this opportunity to stress Finland's readiness to support Belgrade-Pristina dialogue, expressing hope that the dialogue will be continued in due course, as well as the assurance that the EU will be able to help that process.
Minister Dačić pointed out Serbia's willingness to participate in all Finland's initiatives concerning the Euro-integration process, emphasizing the readiness of our country to open more chapters during the Finnish Presidency of the Council of the EU, in order to speed up the progress toward the EU membership.
Two ministers agreed that bilateral relations of Serbia and Finland are very good, with high potential for the further development in various areas, especially in the field of economy.
During the visit, ministers Haavisto and Dačić opened the exhibition "BELGRADE – HELSINKI, 90 Years of Diplomatic Relations", organized at the Archives of Yugoslavia in Belgrade.
Links:
Speech of Mr. Ivica Dačić, First Deputy Prime Minister and Minister of Foreign Affairs of Serbia:
https://www.youtube.com/watch?v=L2eFgbcePtI&feature=youtu.be
Speech of Mr. Pekka Haavisto, Minister for Foreign Affairs of the Republic of Finland:
https://www.youtube.com/watch?v=-4NboMHVxM4&feature=youtu.be